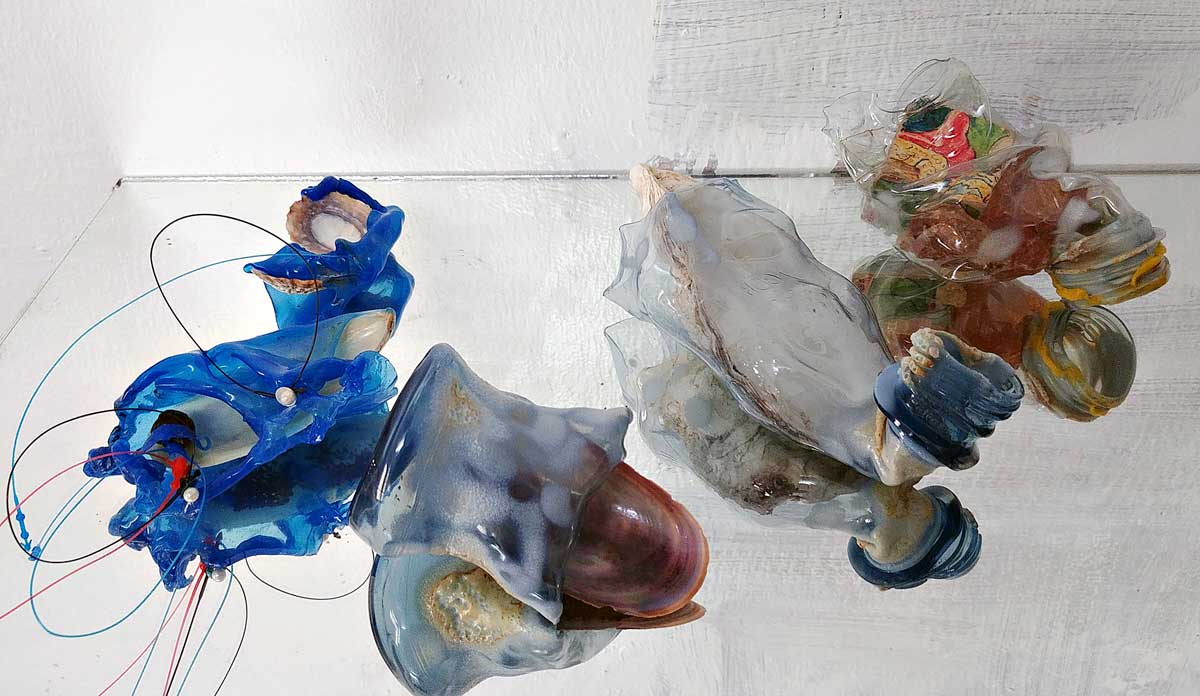 5. November 2023 – 11. Februar 2024
[Glass] … It's a material that has a spiritual quality. It's pure: molten glass is incredibly sexy too. (Kiki Smith)
Der Einsatz von Glas in der Bildenden Kunst der Moderne setzt analog der avantgardistischen Strömungen zu Beginn des 20. Jahrhunderts ein. Z.B. Marcel Duchamps, nach 1945 Vertreter der Minimal Art und in Deutschland Mitglieder der Künstlergruppe ZERO sowie Künstler wie Robert Smithson, Wolf Vostell oder Gordon Matta-Clark experimentierten und arbeiteten mit diesem vielseitigen Material. Sie schätzen u.a. seine makellose Glätte, seine Transparenz und Lichtbrechungs- und Reflexionseigenschaften.
Zerbrochenes Glas, umgeschmolzene Formen aus handelsüblichem Glas, verspiegelte Objekte, Räume aus Glas, Installationen aus Gebrauchsglas, gefüllte Glaskörper, recyceltes Glas, Skulpturen aus Glas …,  in ganz unterschiedlichen Ausformungen beweist der Werkstoff Glas seine Variabilität und zugleich inhaltliche Dimension. Sprödigkeit und Vergänglichkeit auf der einen Seite – strahlender Glanz und kristalline Wirkung auf der anderen machen dieses Material geradezu prädestiniert für eine Kunst, die auf Inszenierungsstrategien abzielt, Fragestellungen dem Gegenüber aufwirft oder als Metapher auf das gesellschaftliche Gleichgewicht hinweist.
Darüber hinaus fasziniert Glas in Verbindung mit Licht und Farbe als Licht sichtbar machende Materie und zugleich als ein Material, das visuelle Erscheinungen aufzulösen vermag. Die Ausstellung präsentiert nicht nur Werke, die mit diesemMaterial umgehen, sondern auch Exponate in anderen bildnerischen Mitteln, die sich in weitesten Sinne mit dem Thema Glas beschäftigen und damit einen erkenntnisreichen "gläsernen Blick" auf die Wirklichkeit werfen.
Künstler*innen:
Till Augustin, Bettina Bürkle, Stefan Diemer, Peter Dreher, Peter Holl, Markus Lüpertz, Cristina Ohlmer, Ursula Palla, Johannes Pfeiffer, Jorge Sanchez Di ello
Preview-Führungen: Samstag, 4. November 2023                                                                                            
Ausstellungseröffnung: Sonntag, 5. November 2023, 11 h                                                                 
Finissage und Ausstellungsende: Sonntag, 11. Februar 2024
Kuratorin: Dr. Sabine Heilig – Zur Ausstellung erscheint ein Katalog.    
The use of glass in the visual arts of modernism begins analogously to the avant-garde at the beginning of the 20th century. E.g. Marcel Duchamps, after 1945 representative of Minimal Art and in Germany members of the artist group ZERO as well as artists such as Robert Smithson, Wolf Vostell or Gordon Matta-Clark experimented and worked with this versatile material. Among other things, they appreciate its flawless smoothness, its transparency and light refraction and reflection  properties.                                                                                                                                             
Broken glass, melted forms made of commercial glass, mirrored objects, rooms made of glass, installations made of utility glass, filled glass bodies, recycled glass, sculptures made of glass …, in very different forms, the material glass proves its variability and at the same time its content dimension. Brittleness and transience on the one hand – radiant brilliance and crystalline effect on the other make this material predestined for art that aims at staging strategies, raises questions about the face to face or points to the social balance as a metaphor.                                     
Furthermore, glass is fascinating in connection with light and color as a material that makes light visible and at the same time as a material that is able to dissolve visual appearances. The exhibition presents not only works that deal with the material, but also shows images in which glass is subject in different contexts and thus take an insightful "glassy view" of reality.
Artists:

Till Augustin, Bettina Bürkle, Stefan Diemer, Peter Dreher, Peter Holl, Markus Lüpertz, Cristina Ohlmer, Ursula Palla, Johannes Pfeiffer, Jorge Sanchez Di Bello
preview – guided tour: 4. november 2023
opening of exhibition: 5. november 2023, 11 am
finissage – end of exhibition: 11. february 2024
Curator: Dr. Sabine Heilig – Exhibition catalogue will be published.