Cristina Ohlmer, in Varese (Italien) geboren, ist freischaffende Künstlerin und lebt in Freiburg. Sie studierte von 1981-1989 an der Staatlichen Akademie der Bildenden Künste Stuttgart mit einem Auslandsjahr in Florenz.
Ihre Werke sind in zahlreichen Einzel- und Gruppenausstellungen im In- und Ausland gezeigt. Sie ist für mehrere Stipendien sowie Lehr-und Studienaufenthalte ausgewählt worden, die sie u.a. nach Taipei, Beijing und Shanghai führten. Die Auseinandersetzung mit dem ostasiatischen Raum ist für die Künstlerin wesentlich, denn sie beschäftigt sich in ihrer künstlerischen Praxis mit Flüchtigkeit und Transparenz. Ohlmer ist eine Grenzgängerin zwischen unterschiedlichsten Medien und Kulturen und visualisiert in ihren Arbeiten die "Dehnbarkeit der Zeit" und deren Fragilität. Erscheinen und Verlöschen: Licht und Raum, Zeichnung und Inszenierung. Dafür erforscht und entdeckt sie, entwickelt jeweils neu.
Interdisziplinäre Tanz- und Theaterprojekte sind neben ihrer Ausstellungstätigkeit Teil ihres internationalen Schaffens. Seit 2010 ist sie Dozentin der Kunstschule Offenburg und Sommerakademie der Künste Ecole Supérieure des Arts Strasbourg / Offenburg. Seit 2016 engagiert sie sich in Kunstprojekten an Schulen und in Flüchtlingswohnheimen mit freie landesakademie kunst freiburg. An der Kunstschule ist sie auch für Studierende der Hochschule der Medien Offenburg und die Bühnen der jungen Theaterakademie Offenburg verpflichtet.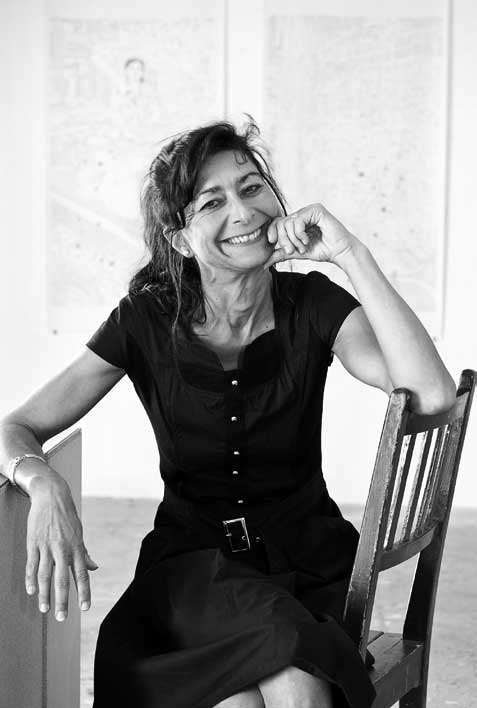 Cristina Ohlmer was born in Italy and works today as a visual artist in Freiburg, Germany. Studies at State Academy of Fine Arts Stuttgart, Florence. Scenography, light design assistant State Theatre Freiburg and as visual artist in Freiburg or out national / international for projects with grants, residences, exhibitions or as art lecturer. Her work is part of many representative collections and museums.
Within ongoing series of drawings for specific environments, combined with installations and lightscapes as investigations of space she explores the gaps between images. Her research mainly combines colour and light as basic tools for creation and its reflection. Her work is not limited to specific media: objects, light installations, pencil and ink drawings on glass, paper, wall and floor and film. The main theme running throughout her work is "reflection", in every significant use of the term: literally, by transfer and distortion, in poetical treatments or atmospheric handling, her presentations always offer surprising views.